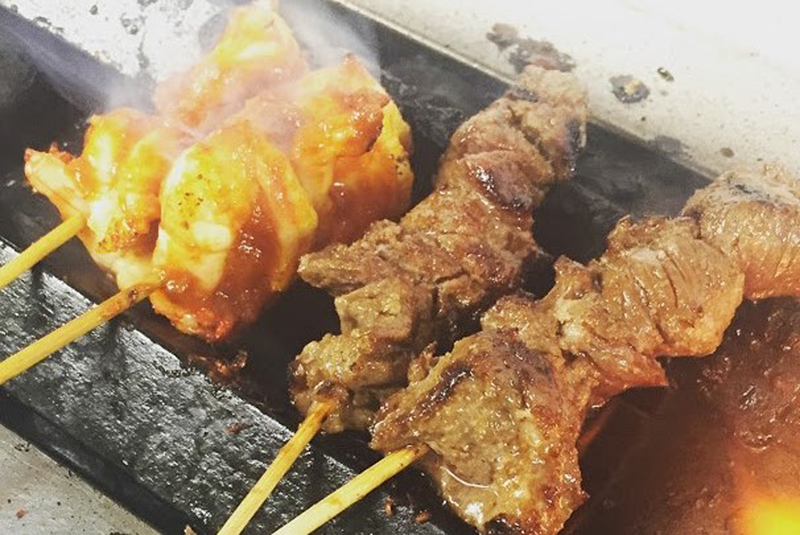 Food
Please refer to fb album for menu photos.
Makanan Kecil / Snacks, etc.
★ Krupuk Udang (Krupuk Udang)
  Big shrimp
★ Emping
  Tree Fruit Chips. Bitter chips are also used as snacks foralcohol.
★ Kacang Goreng
  Stir-fried flowers
---
Sayuran / Vegetable Menu
★ Acar
  Small cut pickles. Together with the voluminable menu.
★ Gado-gado
  Is a staple of indonesian vegetable menu. Boiled vegetables and homemade peanut sauce are delicious.
★ kaledook
  Salad-like raw vegetables with homemade peanut sauce and nuts chips.
---
Sate / Skewers
★ Sate Ayam, Sate Sambal
  Chicken skewered peanut sauce, Sambal sauce.
★ Sate Kambing (Sate Kambin)
  Maton Skewers
★ Sate Udang
★ Sate Sapi
  Beef Skewers
★ Sate Lilit Bali(Sateri)
  Chicken Tsukun skewers
★ Sate Campur
  Skewers 6 pieces of all 6 types. It is a good deal together.
---
Goreng + Kukus / Fried and Steamed
Tempe / Indonesian traditional fermented soy food. It is also attracting attention as a low-calorie, high-protein ingredient. There is almost no smell or habit, and it is widely paid attention as an ingredient.
★ Tempe Goreng
  deep-fried tempe.
★ Tempe Menduan
  Tempe tempura. It is an order from two or more.
★ Tahu Isi
  Deep-fried tofu stuffed with vegetables
★ Lumpia
  Spring roll with plenty of vegetables and spring rain. Spring roll with plenty of vegetables and spring rain. No meat is used. It is an order from two or more.
★ Siomay Komplit
  Indonesian style of eating a platter of large chicken shumai, boiled potatoes, eggs and ama fried tofu in peanut sauce.
★ Batagor
  Two kinds of sakana sashimi and fried boiled eggs with peanut sauce. A local popular dish originating in Bandung.
★ Martabak A popular street food dish wrapped in ground beef, vegetables and egg ingredients.
---
Aneka sup / Soup
★ Soto Ayam
  Chicken soup. 2-3 people size and 1 person size.
★ Soto Babat
  Beef motsu stew soup. In 2009, he won the Grand Prix (BRUTUS).
★ Sop Buntut
  Beef tail soup. A soup with a gentle taste with large vegetables and beef tails.
Dabu-dabub / Dub dub in Sulawesi region. It is a refreshing sauce made by cutting colorful vegetables into small pieces and finishing them with lemon juice. Chili peppers are only available if you wish (dry).
★ Terong Dabu-dabub
  Deep-fried eggplant dub dub sauce
★ Ayam Goreng Dabu-dabub
  Fried Chicken DubdubSauce
★ Ikan Goreng Dabu-dabbu
  Deep-fried Fish Dubdub Sauce
---
Tumis Dan Lain-lain / Stir-fried and more
★ Tumis Kangkung
  Stir-fried with empty-hearted vegetables
★ Tahu Tür
  Tofu omelette
★ Tahu goreng sambal
  Spicy stir-fried tofu and vegetables
---
Makanan Utama ( Daging ) / Meat Dish
★ Ayam Goreng Larapan
  With 2 fried chicken and fresh vegetables, Sambartrasi.
★ Ayam Rica-rica
  Chicken Tomato Chili
★ Ayam Panggang
  Slowly stewed bone-in chickenthighs are baked in the oven, so it takes some time.
★ Ayam Penyet (Ayam Penyet)
  Spicy Fried Chicken. In this spicy course for cooking.
★ Rendang Sapi (Lundan)
  Beef spice stew.
 * CNN travel No.1 menu (2011,2017)
★ Iga Bakar Indonesian style lamb chops. Indonesian-style sauce.
---
Makanan Utama (Ikan)/ Seafood
★ Udang Balado
  Shrimp Tomato Chili
★ Ikan Goreng Larapan
  Whole fried sardines and raw vegetables, in Sambaltrasi.
---
Gulai / Kind of Curry
★ Gulai Kambing
  Goat Meat Curry
★ Tongseng Kambing
  Goat Meat and Vegetable Curry
---
Sambal goreng / Something like coconut curry
★ Sambal Goreng Udang (Sambal Goreng Udan)
  Simmered Shrimp with Coconut
★ Opor Ayam (Opol Ayam)
  Chicken with Coconut
---
Mee / Noodle Dish
★ Mee Bakso
  Meat dumpling ramen. Speaking of local food, this is it.
★ Mie Ayam
  Chicken and Mushroom Tsukemen Style. Please enjoy it in your favorite way.
★ Me Goren
  Fried egg with plenty of vegetables.
---
Nasi / Rice
★ Nasi Goren
  Indonesian Fried Rice With Fried Egg and Shrimp Rice
★ Nasi Goreng
  Terasi Indonesian Fried Rice with Shrimp Paste
★ Nasi Putih
  Rice
---
Makanan Penutup / Sweet
★ Bubur Ketan Hitam
  With black rice rice pudding and coconut milk.
★ Bubur Kacang Hijau
  Simmered Mung Beans with Coconut
★ Kolak
  Pumpkin and Banana Scruko
★ Pisang Goreng (Pissolene)
  Fried Banana 2pcs
★ Pisang Goreng Ice Cream
  1 fried banana + vanilla ice cream
★ Dadar Gulung
★ Es Krim / Ice Cream
  Ice Cream (Vanilla, Matcha)
---